Rock Hard Numbers Make Savage Stone Choose Volvo
Plot the perfect location for an ultra-hard rock quarry in one of the nation's hottest infrastructure markets and your finger would land on Savage Stone, LLC. The 400-acre quarry is situated in Jessup, Maryland, flanked by Baltimore and Washington, D.C. Drive on any main artery around the metro region and you are likely riding on stone from Savage Quarry.
Says Gary Long, Plant Manager, "What makes this stone unique is that it is Baltimore gabbro, a granite-like rock that makes it preferred for coarse road base because the hardness gives you durability and a ultimately a smoother ride. None of our product goes to asphalt plants or concrete, it is all road base aggregate." North of 600 tri-axles haul stone daily from Savage to highway projects within a 60-mile radius. That's equates to one truck one per minute over a 10-hour day.
Savage's parent company, Laurel Sand & Gravel, was founded by Kingdon Gould and family in 1982 in its namesake town. As reserves dwindled at existing quarries, the family scouted geological maps that indicated Jessup may have potential large stores of Baltimore gabbro. Zoom out and you'll spot another uncommon aspect of Savage Stone's location: just beyond its buffer ring of trees lie sprawling residential neighborhoods and upmarket shopping centers.
Unlike established quarries that can benefit from being grandfathered into high population area zoning ordinances, Savage Stone is a relative newcomer to the area. Before opening in 2004, the quarry had to earn the community's trust that its operations would not affect quality of life. It kept its word and today, the quarry is one of Jessup's biggest benefactors.
The Only Way is Down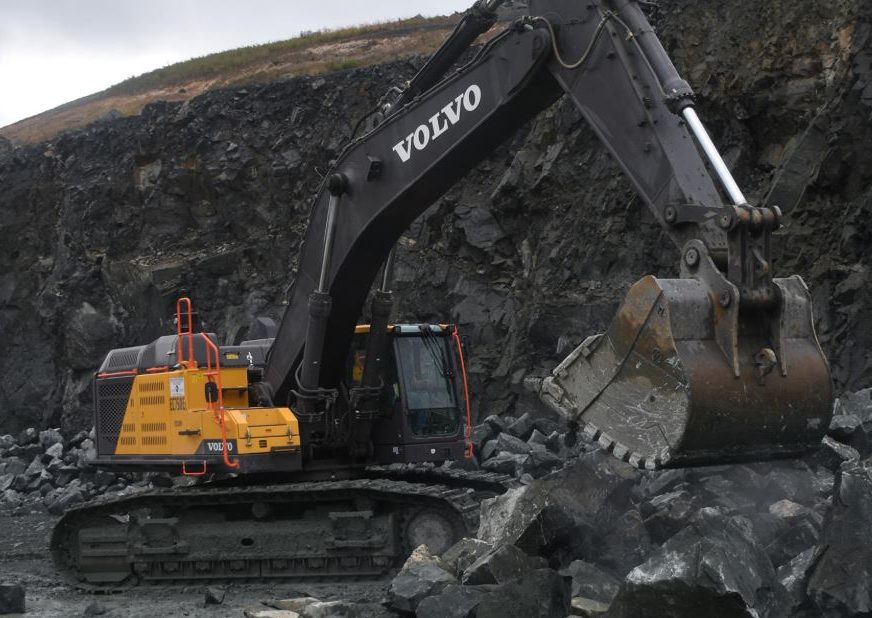 At Savage Stone, gabbro is mined from five, 43-foot tall benches, with chemical rock hardness increasing with each lower level. The shot rock is loaded into Volvo 35- and 40-ton articulated haul trucks and 100-ton Euclid rigids and transported a half mile uphill to the primary crusher, a Lippmann 5062 jaw crusher. The jaw crusher processes rock to 5-7 inches, then is stockpiled on the surge pile for the finishing plant, where it is crushed to 1 ½ minus.
Stephanie Poole, Mining Engineer and Pit Supervisor, explains that the quarry has exhausted its pit boundaries to the north and west so expansion is moving to the south side of the pit and into lower levels of rock reserves. "As the pit deepened our haul roads grew longer and increased cycle time, which in turn slowed production. We instead looked at the economic aspect of putting the primary crusher closer to the deposits and hauling rock downhill," she says.
A major capital project started in spring 2017 to relocate the primary crusher nearly 380-feet below its current elevation, and install conveyors to shuttle the crushed stone uphill to the finishing plant. The production benefit is two-fold. Loaded trucks travel downhill can operate faster and use gravity to save on fuel consumption.
Hard Rock Numbers
If the crushing plant is the heart of a quarry, the first line excavator is the pulse, setting cycle times by how fast it can load trucks. As part of the expansion project the quarry upgraded its primary excavator to a Volvo EC750E to meet the increased production from the crushing plant's new workflow. The uber-abrasive environment, running 12-hour shifts five days a week, demanded a durable and powerful excavator. The 75-ton machine with a 516 hp Volvo Tier 4 final engine is matched to a Rockland 6.5 yd3 bucket that has been modified internally and externally with guards over the cutting edge and side shrouds. The buckets are lined with AR450 or 500 plate and T1.
Terry Baker Sr. is Mobile Equipment manager at Savage Stone. "With typical dirt work you change bucket teeth once a year. With this rock, we are getting 96 hours on a set of teeth, so we are averaging three teeth changes for every oil change."
Savage Stone assigns a dollar value to every piece of equipment down to the minute. This formula was developed from crunching production sheets to calculate tonnage per day. Management uses this data when evaluating when to replace equipment and as comparisons in the purchase process. "We have a certain amount of tons we have to meet every day to cover costs. The trucks and excavators have to roll," says Terry.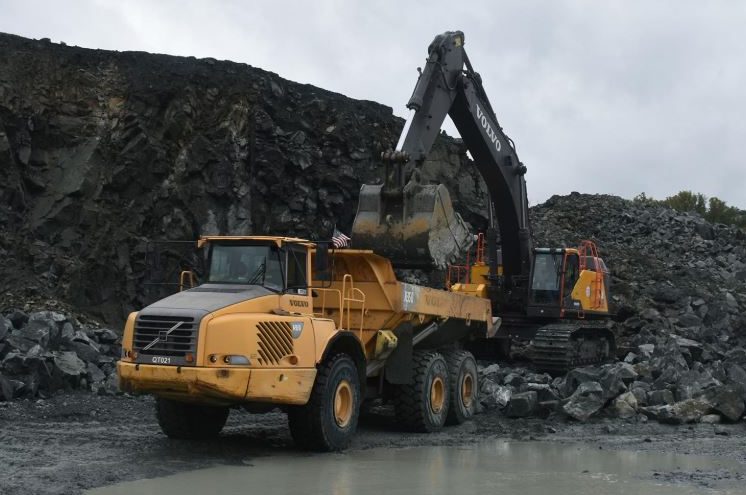 Savage's astute equipment mentality was not lost on John Chartier, a Territory Manager with local Volvo dealer McClung-Logan Equipment Co. "I started doing business over 20 years ago with their parent company, Laurel Sand & Gravel. They have had great success with the Volvo haulers, some of which are over the 25,000 hour range and still running every day. When it came time to look for a new excavator, that history of reliability was a heavy factor in their decision," John says. McClung-Logan has customer service agreements on all Volvo equipment on site and provides after-hours scheduling of preventive maintenance to respect Savage's tight window of operation.
Savage's location is also in close proximity to Volvo Construction Equipment's North American headquarters and demo site in Shippensburg, Pennsylvania. John invited Terry, Gary, Owner Caleb Gould, President Ed Barnhouser, and Vice President of Operations Owen Stewart, to test the EC750E and Volvo's largest artic hauler, the new A60H, at Volvo's proving grounds. They also sat down with Volvo product managers to do the math behind the impressive specs.
Says Terry, "We explored several competitor brand excavators. There is a lot that went into consideration including specs, serviceability, price, dealer and manufacturer support. Fuel consumption was a big concern. We burn 15,000 gallons of fuel here a week with all of our machines, so I want to get the maximum fuel efficiency per hour that we can."
Adds Gary, "What I focus on is, 'Are we being efficient?' How much time are we taking to load out, to reach the muck pile, haul to the crusher and reload? What is most important is uptime, having equipment that is reliable and dependable that we can rely on every day to do the jobs we are tasked to do."
The confidence Volvo and McClung-Logan have in their products helped seal the deal for Savage, says Terry. "Volvo has a lifetime warranty on the stick, boom and main frame. They did not ask us if we were loading mulch or loading rock. Those things are all important. At the end of the day we went into a room and voted and Volvo was the best for us."